Specials Reviews
Posted by: Luxury Travel Lady
Things To Do In Aspen
One of the great things about Aspen is that there are a million things to do. Aspen is most famous for skiing, but there are tons of other outdoorsy things to do as well.
White Water Rafting: Take an exciting ride down the river with Colorado Adventures, who specialize in 1/2 day to 10 day whitewater adventures. Are you a beginner? Head over to Whitewater Rafting for some beginner level action. Do you like steak with your whitewater adventure? If you do, Buffalo Joe's might be the one for you - not only do they have one of the best safety record on the river, but they're famous for their gourmet steak lunch! Mention this listing to get 10% off.
Water Sledging: This is not for the faint of heart - or physically un-fit! Straight from New Zealand, the Aspen Seals promise Extreme Adventure where you can literally plunge head first into the rapids!
Hot Air Ballooning: The oldest successful human flight technology will give you the best view in town. A don't miss! Above It All Balloon Co will take you on a 3-4 hour hot air balloon ride, complete with a champagne brunch. If you plan on doing this, I hope you're an early bird - take off is from 5:30am to 7:20am!
Paragliding: If you like the thought of being airborn, but want to do something more adventurous than the hot air balloon, paragliding might be for you. At Adventure Paragliding a US Hang Gliding Association Certified Instructor will fly you over the Rocky Mountains in Glenwood Springs. Adventure's owner, Pine Pienaar, is a test pilot turned tandem flier, and boasts 11 safe years and over 3,000 safe flies.
Blazing Adventures: Want to go somewhere you can do every kind of outdoor activity you could possibly imagine? Check out Blazing Adventures, where they have all of these activities:

Ballooning
Biking (regular and mountain)
Kayaking
Fishing
Horse Pack Trips
Four Wheeling
Natural Wildlife Viewing
Sleigh Rides
Snowshoeing
Golf: For all the golf lovers out there, I recommend going over to Vail and playing at the Red Sky Golf Club. It's an abolutely beautiful private membership club with two courses, the Tom Fazio and the Greg Norman. This particular golf club is recommended for average to expert players. The Fazio, pictured above, has smaller greens and calls for a great deal of accuracy. The Norman, pictured below, is much larger. The Red Sky Golf Club has plenty of things for the rest of the family to do while dad is playing golf. Relax at the outdoor pool, play tennis on the two Har Tru tennis courts, and dine at the clubhouse restaurant.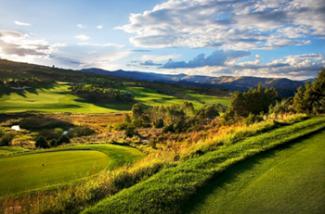 Related Posts:
Aspen Guide: Restaurants, Shopping, Things to Do
Ritz Carlton Aspen Highlands Vacation Rentals
Aspen Restaurants: Fine Dining in Aspen
---
The
Ritz Carlton Aspen Highlands
is the most luxurious Aspen ski resort in the popular ski vacation spot, Aspen, Colorado. Travel En Vogue offers individuals searching for luxury Aspen vacation rentals the opportunity to stay at an exclusive Ritz Carlton Aspen Highlands Private Residence Club luxury ski condo. These spacious Aspen luxury rentals are two to four bedrooms and are perfect for group ski vacations. Each Ritz Carlton Aspen luxury rental features master bed and bathrooms, stone fireplace, fully equipped gourmet kitchen, living room, dining room, washer and dryer, twice daily maid service, and 24 hour concierge. Guests of the Ritz Carlton Aspen Highlands are granted full use of the resort amenities, like outdoor heated pool, ski valet, 5-star dining, fitness center and spa, and Ritz Kids program.